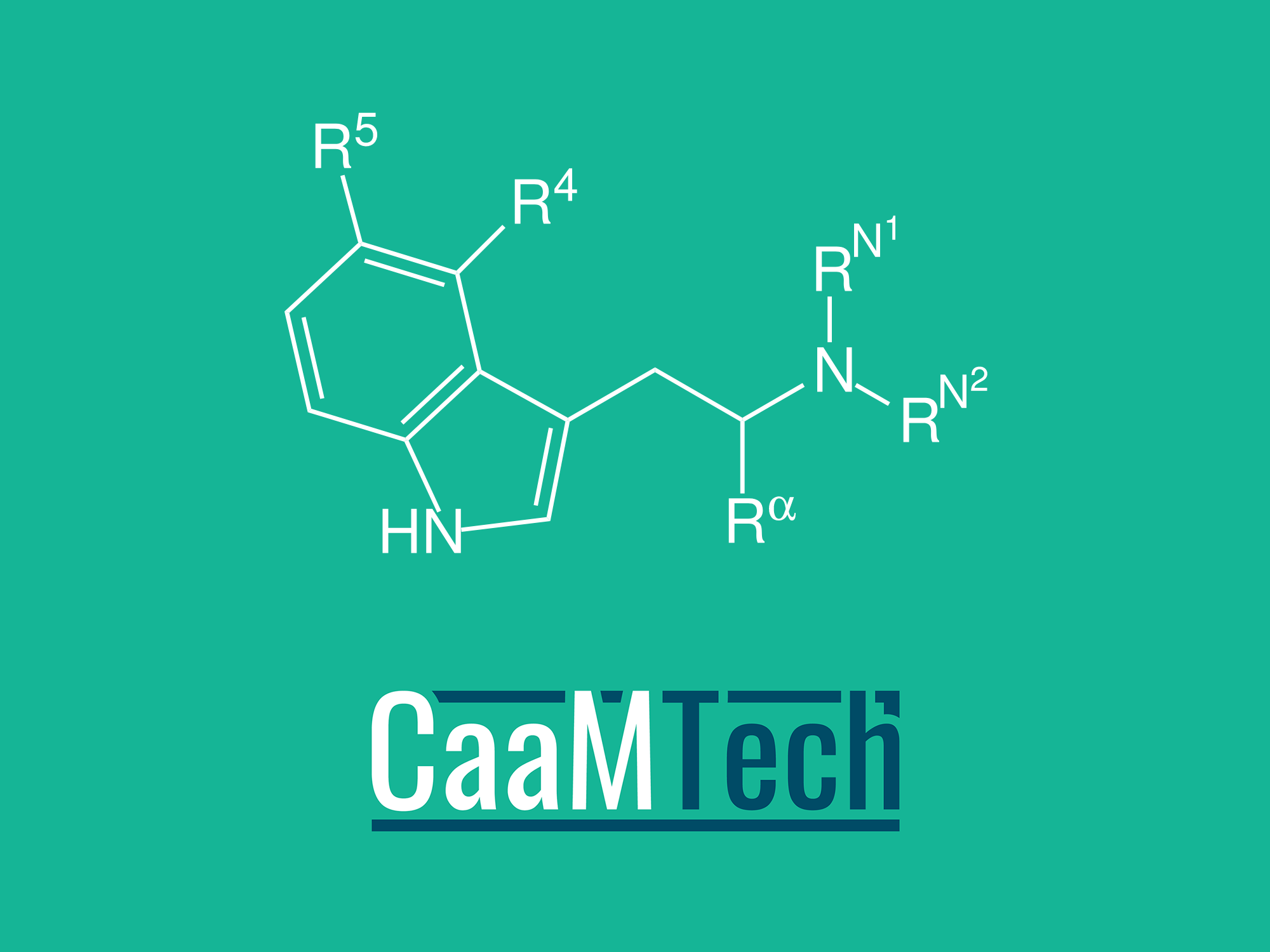 ISSAQUAH, WA – May 7, 2020 – CaaMTech, Inc., announced today that the company has entered into a Cooperative Research and Development Agreement (CRADA) with the Designer Drug Research Unit (DDRU) at the National Institute on Drug Abuse (NIDA) Intramural Research Program (IRP), part of the National Institutes of Health (NIH), to research synthetic tryptamine-based compounds. The DDRU at NIDA IRP studies the basic and preclinical pharmacology of new psychoactive substances which is useful for determining abuse liability as well as clinical utility of novel designer tryptamine-based compounds. Tryptamine-based compounds include naturally occurring psychedelic drugs such as psilocybin, DMT, and ibogaine, as well as synthetic psychedelics such as LSD.
"This collaboration represents another step toward safer, more effective psychedelic drug treatment options," said Dr. Andrew Chadeayne, CEO of CaaMTech. "We are eager to work with NIDA to eliminate ambiguity in psychedelic research through quantitative science with precise amounts of rigorously characterized compounds."
The collaborative research aims to fill several gaps in the scientific understanding of synthetic tryptamine-based compounds. While some of these compounds reputedly produce psychedelic effects, in many cases the only evidence comes from anecdotal reports of people consuming questionable amounts of poorly-characterized chemicals. The full scope of pharmacological effects of many tryptamine-based compounds has never been scientifically studied. To address this problem, CaaMTech has synthesized a library of tryptamine-based compounds and determined their composition and purity using x-ray crystallography: the gold standard for chemical characterization.
Research conducted by the DDRU at NIDA IRP will assess the pharmacological target profiles and efficacies, pharmacokinetic profiles, behavioral efficacies, and physiological effects of synthetic tryptamine-based compounds using in vitro and in vivo assays. CaaMTech will supply purified, crystalline tryptamine-based compounds for the research, as well as expertise, advice, and data support to complete the studies. The studies will provide much-needed data about synthetic tryptamine-based compounds and allow researchers to compare these compounds to more thoroughly-studied compounds such as psilocybin, opening the door to the development of safer, more effective psychedelic drugs.
"Psilocybin is just the first of many psychedelic tryptamine-based compounds to receive meaningful scientific attention," said Dr. Chadeayne. "Now that we have a library of reliable compounds, our goal is to increase the number of candidates available for clinical trials by filling in much-needed information about their pharmacological properties. We look forward to advancing the best candidates into an FDA approval process to ultimately improve the available options for treating mental health disorders."