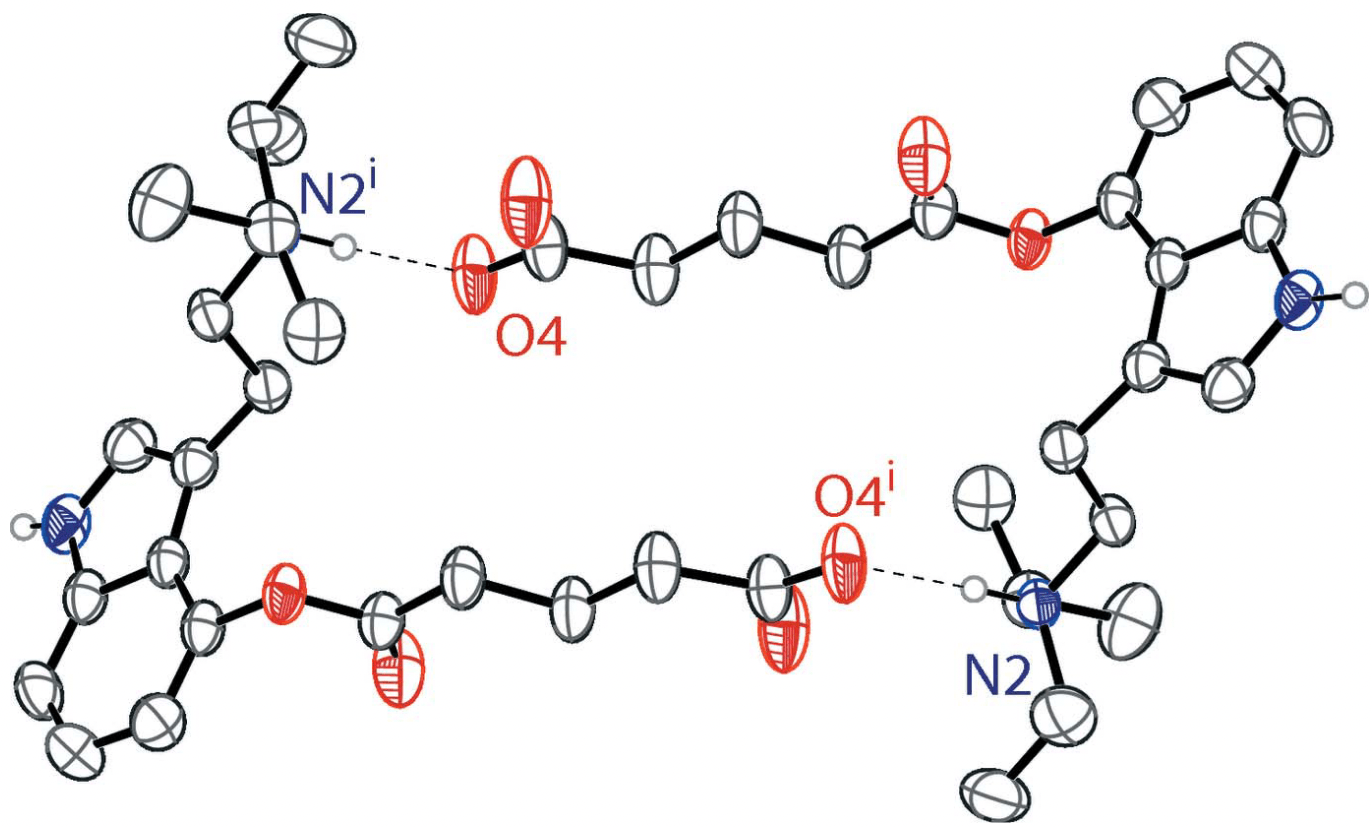 CaaMTech scientists, in collaboration with the Manke Lab at UMass Dartmouth, recently reported their synthesis and structural characterization of two novel prodrugs of 4-HO-DiPT.  The scientists published their research in a paper titled, "The methanol and ethanol solvates of 4-glutarato-N,N-diisopropyltryptamine" in the journal Acta Crystallographica. These are the first crystal structures reported for any 4-substituted DiPT compound, the first solvates of 4-glutarato-N,N-diisopropyltryptamine, and the first crystalline material reported for any form of 4-glutarato-N,N-diisopropyltryptamine.
4-HO-DiPT was first synthesized and characterized as the hydrochloride salt by David Repke in 1977. Its profound psychedelic effects were described by Alexander and Ann Shulgin in their book TiHKAL: "I truly doubt that there is another psychedelic drug, anywhere, that can match this one for speed, for intensity, for brevity, and sensitive to dose, at least one that is active orally." Shulgin and Shulgin described an onset of about 15 minutes and a duration of action about 2-3 hours. These favorable properties have led to interest in 4-HO-DiPT and its prodrugs as alternatives to psilocybin and other classical psychedelics for use in the clinical treatment of intractable psychiatric conditions.
"For the tryptamines we've studied, the chemical structure is just the beginning of properly identifying the molecule," explained Dr. Andrew Chadeayne, CaaMTech CEO. "Accurately dosing the compound in biological assays also requires distinguishing between all of the different solvates and crystalline forms because they influence a drug's molecular weight."
Though another prodrug of 4-HO-DiPT (4-HO-DiPT glutarate, a "hemiester" prodrug of 4-HO-DiPT) was previously reported in a patent application filed by Field Trip Psychedelics Inc. (now Reunion Neuroscience), it was described as an amorphous "white cake." No crystalline material was reported, leaving questions about the identity of the compound in view of widespread ambiguity amidst different crystalline forms of structurally related tryptamines. This latest work reiterates CaaMTech's commitment to fundamental chemistry and foundational science for the development of psychedelic medicines.
"Synthesizing and characterizing these exciting compounds is an incredible experience, and motivates me to look further into their structures," said Marilyn Naeem, lead author on the publication. "The more that we understand their crystalline forms, the more we can understand about their potential as therapeutics."