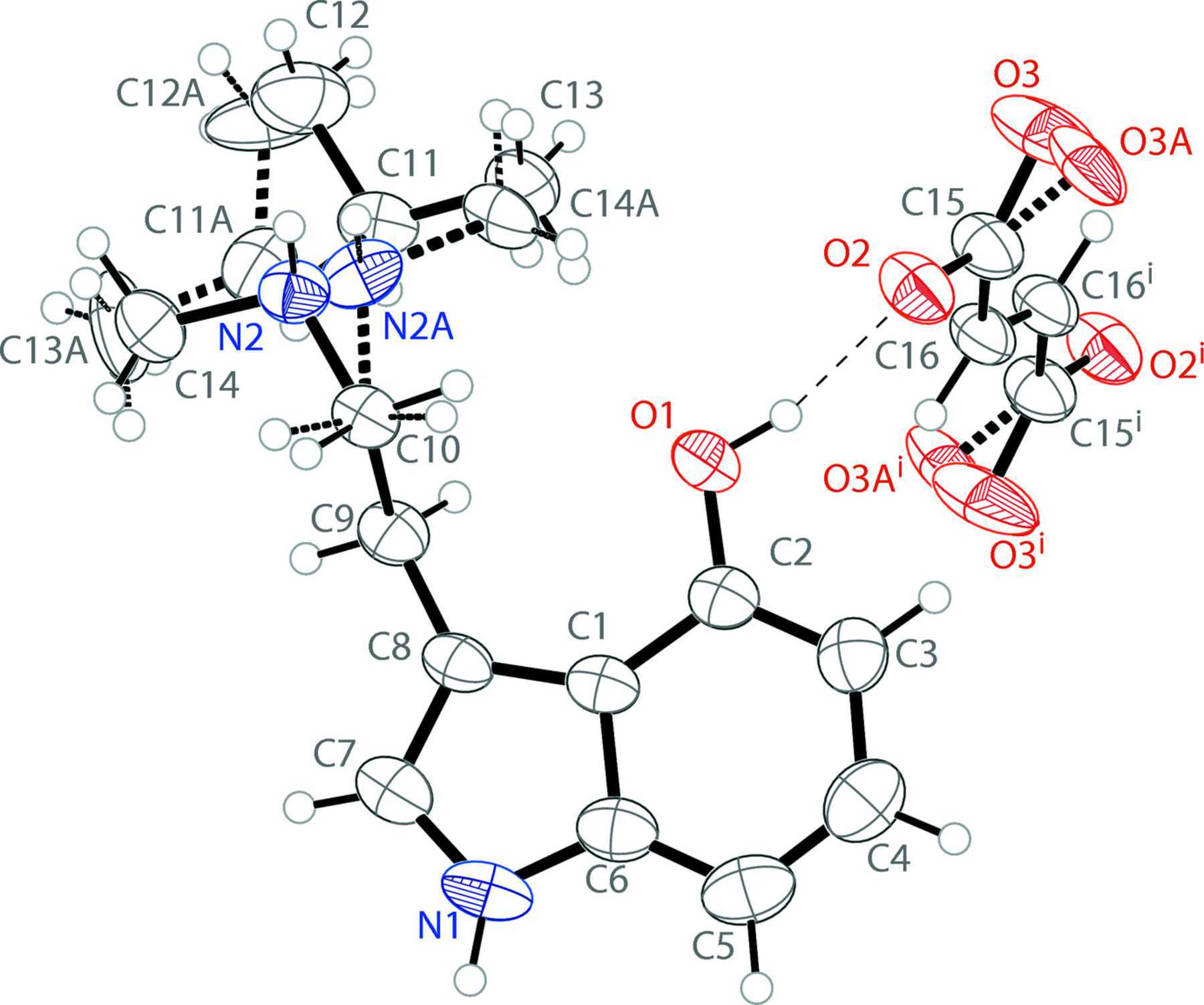 CaaMTech researchers have synthesized a new crystalline form of miprocin: Bis(4-hy­dr­oxy-N-iso­propyl-N-methyl­trypt­ammo­nium) fumarate. The research was published in Acta Crystallographica under the title "Bis(4-hy­dr­oxy-N-iso­propyl-N-methyl­trypt­ammo­nium) fumarate: a new crystalline form of miprocin" and was conducted in collaboration with researchers at the University of Massachusetts Dartmouth. This work also represents the first solid state structural characterization of miprocin, and the first synthesis and characterization of a miprocin salt.

Miprocin (4-OH-MiPT) is a synthetic tryptamine, which is structurally similar to psilocybin and psilocybin's active metabolite, psilocin. Miprocin differs from psilocin (4-OH-DMT) by replacing an isopropyl group for one of the methyl groups in psilocin. Although formal scientific studies on miprocin have not been conducted, anecdotal reports indicate that consuming miprocin produces "psychedelic" effects akin to other classic psychedelics. In his book "TiKHAL," Dr. Alexander Shulgin reported than a 12mg oral dose of 4-HO-MiPT provided "a richly insightful and highly erotic experience." Other anecdotal reports indicate that miprocin has the paradoxical properties of both being relaxing, stoning and mildly sedating with a marked sense of physical stimulation that distinguishes it from related substances like psilocybin mushrooms or 4-AcO-DMT.

The synthesis of this molecule represents another contribution from CaaMTech toward improving the fundamental chemical understanding of natural and synthetic psychedelic tryptamines. To date, almost all scientific studies have focused on only a few compounds, e.g., psilocybin, LSD, DMT. Many promising compounds have not been studied due to (1) lack of availability of pure compounds and (2) lack of fundamental chemical characterization of those compounds.

"Before medical doctors can study the potential of these compounds, they need access to analytically pure materials and basic information about their chemical properties," said Andrew Chadeayne, CaaMTech CEO and co-author on the paper. "By synthesizing pure crystalline compounds and conducting fundamental research about their properties, CaaMTech hopes to facilitate downstream research into the potential of these compounds."