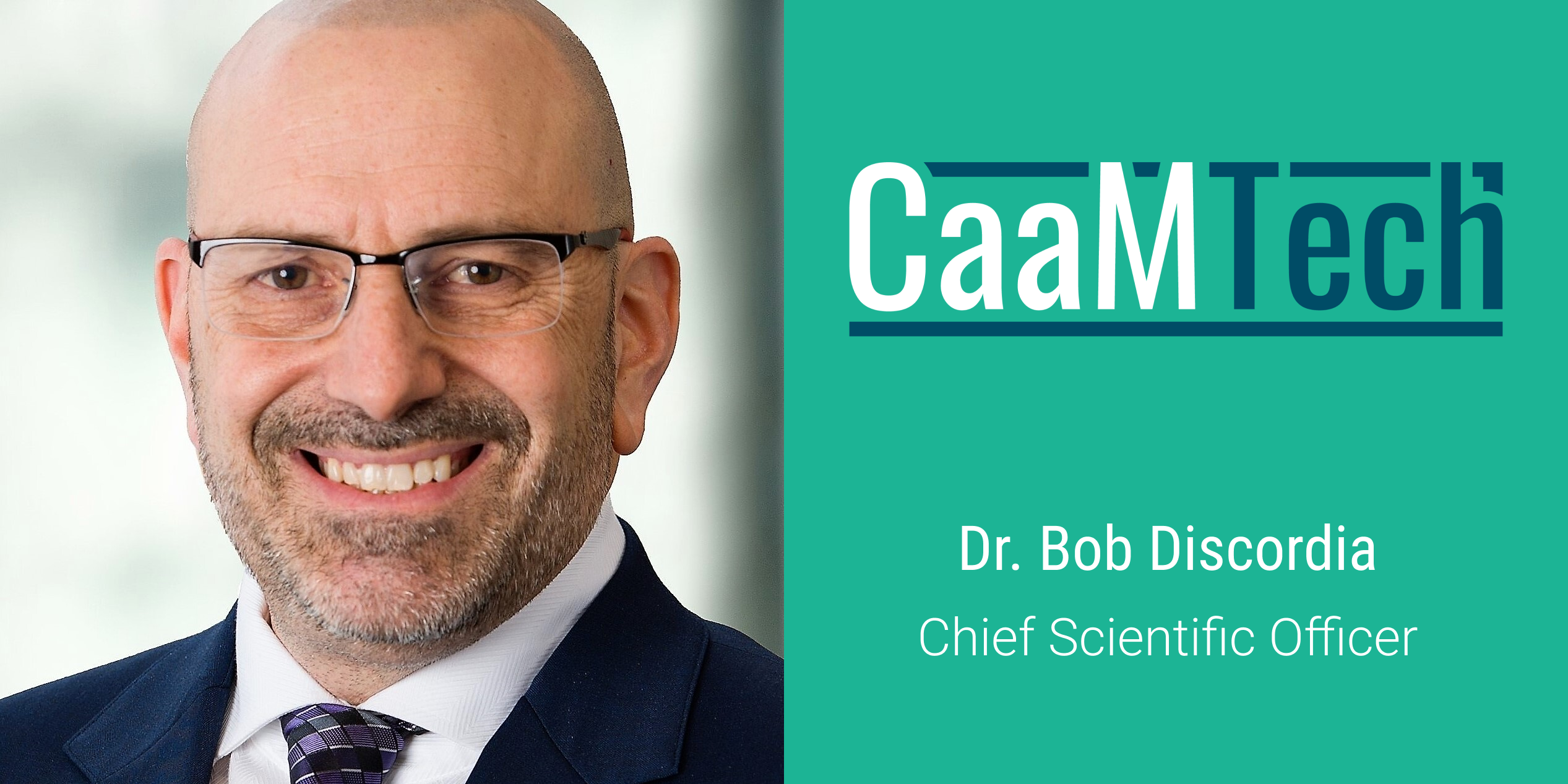 ISSAQUAH, WA – February 17, 2022 – CaaMTech, Inc., announced today that the company has appointed Robert (Bob) Discordia, Ph.D. as its Chief Scientific Officer (CSO). Dr. Discordia brings over 30 years of pharmaceutical and biotechnology industry experience to the CaaMTech team highlighted by a 26-year tenure with pharmaceutical giant Bristol Myers Squibb. Dr. Discordia will lead CaaMTech's pharmaceutical development team by advancing a portfolio of novel compounds from the company's vast library into clinical trials.
"Dr. Discordia brings us exactly the expertise we need for this stage of our development," said Dr. Andrew Chadeayne, CEO of CaaMTech. "And he brings it at the highest level imaginable."
Dr. Bob Discordia comes to CaaMTech with an abundance of pharmaceutical and biotechnology industry experience stemming from a distinguished 26-year career with Bristol Myers Squibb. He started as a research chemist working on the development of the revolutionary anticancer drug Taxol® (paclitaxel) and went on to lead many key programs for the company. Later, he became an executive within Business Operations responsible for the external strategic partnerships for the Global Pharmaceutical Development and Manufacturing and Supply organizations. More recently, Bob was Chief Operating Officer and Head of CMC Development for Corbus Pharmaceuticals. Under his direction, Corbus expanded its capabilities in its run-up to the launch of its first pharmaceutical product. He subsequently founded Avanzarx Pharmaceuticals, a virtual biotech developing novel technology for the treatment of inflammatory and fibrotic diseases.
"I am captivated by the immense, untapped potential of psychedelics to reach patients for whom current therapeutics have been ineffective," said Dr. Discordia. "With the combination of CaaMTech's broad intellectual property holdings, key academic alliances and the enormously talented team, I am thrilled to be on board, devising and advancing a pipeline of high-quality assets into clinical trials and building a world-class pharmaceutical discovery and development organization."
Psychedelic compounds have shown tremendous promise in treating some of the world's most intractable health issues, but traditional psychedelics can present various practical challenges in clinical settings. CaaMTech has led the psychedelics industry in expanding the number of novel, next-generation compounds available for development into safe and effective medicines. Through research collaborations with the NIH's Designer Drug Research Unit at the National Institute on Drug Abuse, the University of Massachusetts Dartmouth, the Leibniz Institute for Natural Product Research and Infection Biology, and the University of Wyoming, CaaMTech has built a cross-disciplinary team of world-class scientists, providing diverse subject matter expertise and a shared goal of advancing the state of the art of psychedelic science. The addition of Dr. Discordia as CSO enables CaaMTech to take its next step toward initiating clinical trials and bringing next-generation psychedelic medicines to the patients who need them most.